Google Page 1: How to Build a High Traffic Web Site
November, 2011 by George May
What's that?
You want people who visit your web site to buy your products? Use your services? Sign up for your mailing list?
Sorry, I missed that, I've got another web site to visit.
The internet is a big place with lots of things to do and see. But is it possible that there's one tiny tip that can mitigate the distraction-factor and get people to do more of what you want and less jumping off to another site? Well, there are no magic bullets but there are plenty of small (common sense) things you can do to make it more likely that your site will get the attention it deserves.
Our tips are so simple you'll wonder if it works. Until it does…. Repeatedly!
We've all seen and used enough web sites to intuitively understand when one is "good" and when one makes us want to throw our computers out the window.
Although it's easy to disagree on whether a site is visually pleasing or not – everyone likes different colours, different styles and different imagery – there are a few things that make a web site "good" across the board, whether it is strictly informational or a complex ecommerce site. Below explores ten common sense tips for making sure that nobody's computer ends up flying out a window on your account.
Google Page 1: 10 Tips on Building an Effective Web Site
1: A WEB SITE SHOULD BE INFORMATIVE
Although the Internet is considered a visual medium, it is a myth that web sites should contain large graphics and minimal text. People who visit your site want information about your products and services. They want to be convinced that your product or service is right for them. They want to know that you are the expert. Your web site is an opportunity to prove to potential customers that you have what they need and that you know what you're talking about.
Too little information is worse for your business than too much. Visitors are capable of filtering information to find what they're looking for. One customer may be convinced of your expertise after a paragraph, but another may want paragraphs, essays and explanations worthy of a doctorate degree. Think about the last time you visited a site and needed to decide whether or not to interact with a company, whether by calling, joining or purchasing. You probably checked out their "about us" page, read a little about their products or services and checked to see if there were any guarantees.
A content-rich site gives visitors the opportunity to read more extensively about your organization and learn something that may positively influence them. Let your customers decide how much or how little information is necessary before they make a decision about you.
Google Page 1: What is the most important informational page on your web site?
How does it help you convince customers to do business with you?
2: INFORMATION SHOULD BE WELL ORGANISED AND PROPERLY DISTRIBUTED
Information should be distributed over an appropriate number of clearly defined and well-organised pages. Too much information concentrated in too small a space is just as detrimental to a visitor's experience on your site as too little information. Nobody likes to scroll through large blocks of text searching for that one idea or piece of information they need.
Format your text in a way that facilitates reading on a computer monitor. People read differently online than they do in print. They tend to skip around and scan web pages for specific information rather than reading straight through. Many times, people will read only your headings or bullet points, stopping to read more when something is personally interesting or relevant.
Improve your site by breaking up large blocks of text into smaller paragraphs or multiple pages, create headings with unique styles, make appropriate use of bold or multi-coloured text (be careful not to overdo either) and use bullet points or numbered lists liberally.
And remember, every one of us wants things to be as simple as possible.
You should take great pains to make sure it's easy to find information on your web site. Don't bury information on obscure pages or on pages with obscure names. Good organization will go a long way toward converting visitors to customers.
Google Page 1: Have you ever had a hard time finding something on another web site? Did it eventually drive you to leave the site?
3: INFORMATION SHOULD BE RELEVANT
Unless you are a huge multinational brand recognized on sight by everyone, then your home page should clearly state the purpose of your organization.
You can offer details later, but a visitor should never have to click around to figure out what your company does.
Assuming that you would never make such a mistake, what about the rest of your site?
Is the writing geared toward a specific audience? Does it meet the needs of this audience, and not those of your CEO who has spent a weekend with a thesaurus and wants a Pulitzer for his rendition of your mission statement? The key to keeping people reading is to cut out the lingo and the jargon and the marketing hype and tell them what they need to know.
To do this, you must know your audience.
Decide if you are gearing your site toward middle class dog owners, children between the ages of six and ten, stay-at-home parents, self-employed contractors or rising corporate stars. Your audience should dictate your writing style, not your marketing department.
Google Page 1: Who writes your web copy? Do you feel that it connects with your customers?
4: A WEB SITE SHOULD BE EASY TO USE AND NAVIGATE
The ideology for good navigation is fairly straightforward. With some good planning you can lay out your site in a meaningful way.
Make your navigation consistent and easy to understand. Consistent navigation is always in the same place. If you have a link to your "About" page in the upper right hand corner of one page, the link to your "About" page should be in the upper right hand corner of every page. Generally, the only page that sometimes "breaks" this rule is the home page. Home pages may be somewhat structurally different than other pages, since this is where you get to show off your pretty pictures and splashy creativity and, if you've done your job right, entice visitors to stay awhile. However, there should still be a consistency between the home page navigation and the navigation of other pages in the site.
Always name your navigation using standard and generally accepted terms. "Contact Us" is self-explanatory. Don't be cute and clever and name your contact button "Shout Out". Visitors won't get it. They won't waste time trying to.
Visitors should always know how to go back to your home page. Clicking on your company logo should bring visitors back to the home page. It's also standard to simply place a "Home" button in your navigation scheme. Keep in mind that visitors may not enter your site through your home page. The important thing is that visitors can get to your home page at all times.
Visitors should be able to get to any page of your site at all times and they should always know where they are in the site. Make sure that your pages have clear titles. Make sure that you have well-organized product or service categories. Use a sitemap or "breadcrumb trail" navigation as helpful tools. Also be sure that visitors can always get to your company's contact information. A vital part of customer relationships is communication, so make it easy for customers to communicate with you.
Google Page 1: Is your web site easy to navigate? How do you know? Have you ever asked your customers about it?
5: A GOOD WEB SITE CONTAINS A CALL TO ACTION
Whether you run an informational, service oriented or ecommerce web site, you're doing it for a reason. Define that reason and then prompt your visitors to take action.
A good web site needs a purpose to drive visitors to some intended action, whether it's to sign up for a newsletter, buy a product, request more information or refer a friend. Make it clear what you want your visitors to do, then prompt them to do it.
A good web site instructs visitors to "sign up here" or "buy now". Even if it's something as simple as "contact us", make it an obvious directive, so visitors know why they're using your site.
Never assume that visitors know what you want – or even what they want.
Sometimes you have to hit people over the head with a direction before they'll take it. If you're a financial planner you may think it's pretty obvious that someone visiting your site should start by contacting you about financial services, but a visitor might stop at information surfing and never take action. Even if you have an ecommerce site where the objective is about as clear as you're going to get (buy now!), a prompt from you to do so could make the difference between gaining or losing that customer.
Lots of us run on autopilot – we read, we click, we move on.
If you take the time to shout out to your visitors to "Do this now!" you can tap into that autopilot and nudge the process along.
Google Page 1: What's your call to action and where is it located on your web site?
6: FORMS SHOULD BE EASY TO USE AND UNDERSTAND
Forms can serve a variety of purposes. They can be a place for visitors to submit questions, place orders, request price quotes, sign up for free newsletters, send feedback, and even provide you with a little bit of marketing information.
A very little bit of marketing information.
Nobody wants to be bogged down filling out lengthy forms. If you can get visitors as far as your form, that's great news. Now don't drive them off by driving them crazy.
First, decide the purpose of your form. Then, decide the minimal amount of information that you need from someone who is using that form. If it's a contact form, do you really need a person's first and last names, date of birth, job title, phone number and ring size? Make the form so simple that a person would feel dumb not to fill it out and click "Submit". Naturally if your form is part of a more complex ecommerce site, you would require additional information. But do stop and think about what information is truly important.
When you build a form, anticipate all the things that can go wrong and head them off before they do. What if your customer doesn't provide an email address? What if they make a mistake and the form fails? Some simple planning can ensure that your forms work for customers at the critical moment. For instance, if you require certain information, be sure to prompt customers to provide it so they cannot submit the form without it. Make sure that your error messages are clear and meaningful so that customers know exactly how to respond. In the event of an error, be sure to retain information that the customer has already completed. Nobody wants to go back and fill out the same information all over again.
Another good idea is to prepopulate as many fields as possible. This simply means controlling the information that a visitor can enter into a text box
Prepopulating fields also comes in handy when you only want a limited set of responses. If you're a writer, you may want a field that asks people what services they're interested in. If you don't ghost-write novels, but you do edit manuscripts, write jingles and blog, then create a list of relevant services from which a customer can choose.
Your best bet when it comes to forms is short, simple and controlled. And this may seem like an obvious "by the way" but by the way, make sure your forms are actually getting to you. Just because a customer fills it out doesn't mean it goes anywhere.
Google Page 1: What's the "deal breaker" for you when you're faced with a contact form?

Is there any information you wouldn't be willing to provide?
8: A WEB SITE SHOULD BE SEARCH ENGINE FRIENDLY
Chances are the world is going to discover your site through the search engines. Even customers who know your site's address may still go to search engines to type in your company name or web address to reach the site, rather than typing the address directly into a browser.
You don't care how it's done; all you know is that if a person goes to Google and types in "Your product", you want your site to be listed on Page 1
There are a lot of components that go into making a site search friendly – from the design, to the keywords, to the server your site is hosted on. While there is no magic bullet, if you build a quality, standards-compliant web site, you're already ahead of the game.
When dealing with search engines, you want to keep one important word in mind: text, text, text. Eliminate the unnecessary bells and whistles and focus on the content. You don't need your logo to blink and sing the National Anthem or whistle Waltzing Matilda
Keep in mind that "search engine friendly" does not mean "top of Google". It simply means that when search crawlers visit, your site does not drive them away or land your site somewhere in obscurity. Building a search engine friendly site starts in the planning phase (if you're keeping up with these tips, you'd better not be surprised!) and should be executed throughout the development process so that by the time your site is ready for the world, it's also ready for the search engines.
Google Page 1: Is your site search engine friendly? What have you done to make sure it is?
9: YOUR WEB SITE SHOULD BE AT LEAST AS GOOD AS YOUR COMPETITOR'S.. AND DIFFERENT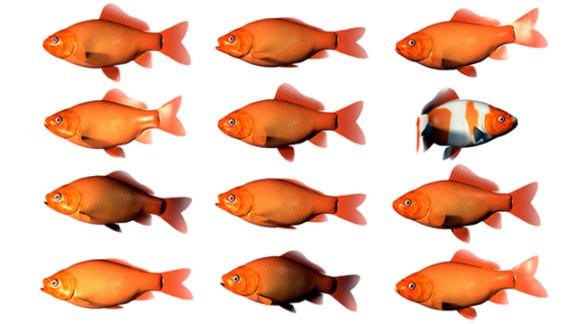 Another one for the "seems obvious" category, but pay attention. If you haven't visited, used and scrutinised your competitors' sites, then you are missing a huge opportunity.
You should be aware of what other organisations in your industry are doing, what works for them, what doesn't. This is also a good opportunity to look for "empty spaces" that you can fill with a new idea. Find out what your competitors are missing, then rescue your customers (and add a few new ones) by offering something that your competitors don't.
But guess what? The only way to do this right is way at the beginning during the planning phase. You shouldn't be designing, building or otherwise marketing your site until you have an arsenal of ideas and information about what's happening online in general and in your sphere in particular. Dig out your researching skills and apply them to the real world. Spend some time and really find out what's out there so you can begin to build a cohesive direction for your site and its goals.
Now for the disclaimer: don't "follow the leader" when it comes to online marketing or you will look like what you are – one entity in a long line of many of the same. Figure out where your competitors are going and then take one extra step. Just because "everyone's doing it" doesn't mean they're doing it right. Use your competitors for the really-great-ideas and surpass them in every other way.
Google Page 1: What are you doing to differentiate yourself from competitors?
10: A WEB SITE SHOULD BE PART OF THE BIG PICTURE
A good web site does not stand alone. It must be an integrated part of your marketing plan and an extension of your company's message, values and goals.
Don't stop mailing your monthly newsletters just because you've posted them online. Don't forget to nudge customers with occasional email reminders. Don't neglect your brochure because you think all that information is online anyway. The key to marketing success is branding, and branding means repetition, and most importantly, consistency. You want your customers to recognize you as a great company both on- and offline.
A web site is no more a "marketing plan" than a single brochure. Customers respond to marketing efforts differently and someone who may never bother to search for your product or service online may readily visit your web site after they receive a postcard mailer from you. You should look at your web site as a tool. It can help generate leads and customers, provide information, serve as a venue for customer service and interaction, and contribute to the success of your business. But do use it as a tool, one that evolves and grows with your business – not as a one-shot, up-and-done, end in itself.
Goggle Page 1: What are you doing to get your web site in front of customers?
---
Tips for Generating Inquiries and Sales:
More and more small businesses are realising that having a web site is no longer an option.
It's a necessity.
Consumers, businesses and government buyers all use the web to buy products and services directly and to research those purchases they will eventually make offline through more traditional means.
Having a web site and profiting from it don't necessarily go hand-in-hand, however.
In fact, some web sites are so poorly designed and constructed that they drive customers away instead of getting them to open their wallets wide. You can minimise that problem by following these basic principles of sound web site design and navigation.
1. Don't hide what you sell
In many instances, the "content" that visitors want is information about the product they want to buy.
If you make it difficult to find your shopping area, if your pages take a long time to load, or if visitors can't find your order form, they will either give up or go shop in your competitor's online store.
To improve experience for the customer, try to keep each page fast loading. If you use graphics, use thumbnails with the descriptive text. The thumbnail-sized photos can be setup as clickable links to larger versions of the photo for anyone who wants to see them enlarged
If you sell a lot of different items, try to classify them in some way to make them easier to find. For instance if you were selling office supplies, you might have one category called "paper and stationery," another called "Writing instruments" another called software, etc.
2. Make it look professional
It wasn't long ago, that just having a web site was enough to make a small businesses and home businesses look more professional.
It didn't much matter what the web site actually looked like. But that's changing. While there are still some pretty ugly web sites that are relatively successful, customers, for the most part expect a company's web site to be as neat and professional looking as their printed sales literature and marketing materials.
Anything less than a professional façade for your online shop, will make your business look small and unreliable.
3. Make your site easy to navigate
Businesses and consumers today have little time to waste.
If they can't find what they want quickly on your site they'll move on.
To help them find their way around, put a table of content (often called a navigational bar or navbar) on your home page.
Include a search function for the web site as well.
4. Encourage browsing and impulse buys
Retail stores get you to purchase more merchandise by putting sale merchandise at some distance from the cash register (so you have to walk through the store and see more things you may want to buy).
They also increase sales by putting items that make good impulse buys in places that you pass through to get out of the store.
Fast food stores and supermarkets often have chocolates and magazines near the checkout counter. Clothing stores may have socks, jewellery or perfume near the cash register.
You can use similar tactics on your web site to increase product sales.
For instance, if you have an article on how to choose digital cameras, create a small ad for digital cameras if you sell them and put it in the margin of the article.
If you sell books, write short book reviews and put a link in each book review to a place on your site where the reader can buy the book you are reviewing.
Run banner ads for your own products on editorial pages on your web site.
These ads will work like ads on the window of your favourite supermarket. They'll remind visitors of products you have in other parts of your web site.
5. Suggest add-on sales 
One of the easiest ways to increase sales is to let customers who are about to make a purchase know about related products they may want to buy.
If your shopping cart software allows it, include one or two links to related products from the shopping cart screen. If you can't easily do that, include the link to related products on a thank you page.
6. Give them ordering choices Not everyone is comfortable giving out credit card information over the Internet, and not everyone likes to shop with a credit card.
To maximize your sales, be sure you give customers alternate methods for making a purchase. In addition to your online order form, provide a way for people to order by telephone, by fax and by mail.
Make those options easy to find, too. If your customer has to hunt for ways to make a purchase, you'll lose sales.
If you find too many customers use call, fax or mail their order, consider adding a surcharge for orders that aren't placed electronically.
Or, increase your prices slightly and then offer a discount for ordering online.
7. Tell them how to reach you
Customers want to know who you are and how they can contact after they've made a purchase. And they want that information to be easy to find. If it isn't they may question your honesty or credibility and move on to a competitor's web site to make their purchase.
You can avoid that trap by having a "contact us" button on every page of your web site.
The "Contact us " button can lead to a web page that lists your business name, business email address, telephone, fax and other information customers may need to know.
If you don't want to take the calls yourself, have an answering service take them for you.
Tip: Remember the Internet is "on" 24 hours a day, 7 days a week.
People can and do use it all night long. If you don't have someone answering phones 24 hours a day, be sure to indicate your hours of operation and your time zone with your contact information.
8. Include a feedback form
A feedback form serves three purposes. First, it gives your customers another way to reach you. Second, it lets you know what customers think about your products and services and what they wanted but can't find.
Finally, the feedback form is good for public relations. Having it on your site will help customers form an impression of your company as one that cares what its customers have to say.
Put the feedback form where people can find it easily on your web site. This might be on a navigational menu, or as a text link.
9. Read and answer email at least once a day
One of the leading attractions of the Internet is its immediacy. You can find information, shop for products, send and receive letters, place orders, send invoices, view pictures, and access documents 24 hours a day, seven days a week. But that's also one of the leading disadvantages of the web – at least for web site owners. Because the web and online services are available 24 hours a day, visitors expect them to be staffed around the clock, too. If they have a question, they expect to get a response in hours, rather than days as they might if they sent a question to your company using traditional mail.
To keep customers happy, therefore, plan to answer all email within 24 hours or less. If you don't answer your email in a timely fashion, your customers are likely to have little difficulty finding one of your competitors on the web.
10. Help people who stumble into your web site find their way back
When visitors find your web site, they may save or print some of your information to read at a later time. When they find that information later on, they may want to return to your site.
To make sure they can find their way back, be sure that every page on your site includes the name of your web site, your phone number and your URL on the bottom of the page. To avoid typing that information in manually on every page include it on the bottom of whatever template you use to create web pages.
Google Page 1:
No One in Australia knows more about generating business from the Net
If that's what you want your Website to do
We do it all day every day and we do it with no up-front fee!